Here are instructions for new Monthly Attendance Forms for the Fiscal Year 2017-18.  Our main goal is to have all attendance  TYPED and SUBMITTED ELECTRONICALLY.

We've been sending out attendance forms specific to each individual workshop, with a unique ID number. If you have multiple workshops, even if on the same day, each workshop will have a separate attendance sheet, with its own unique ID number.  Here's a link to find specific workshop ID numbers: WORKSHOP ID #(s).
If you don't find your class listed, email laurie@williamjamesassociation.org
To fill in your attendance sheet you may need to use Acrobat Reader. You can get a current version here: Acrobat Reader Download.
Save your attendance forms somewhere you can access and organize them easily.  You may need to use the Print function to Save as PDF. Click HERE for detailed instructions.
Please read the instructions here when you are using the form and do your best to give us clear, complete and accurate information.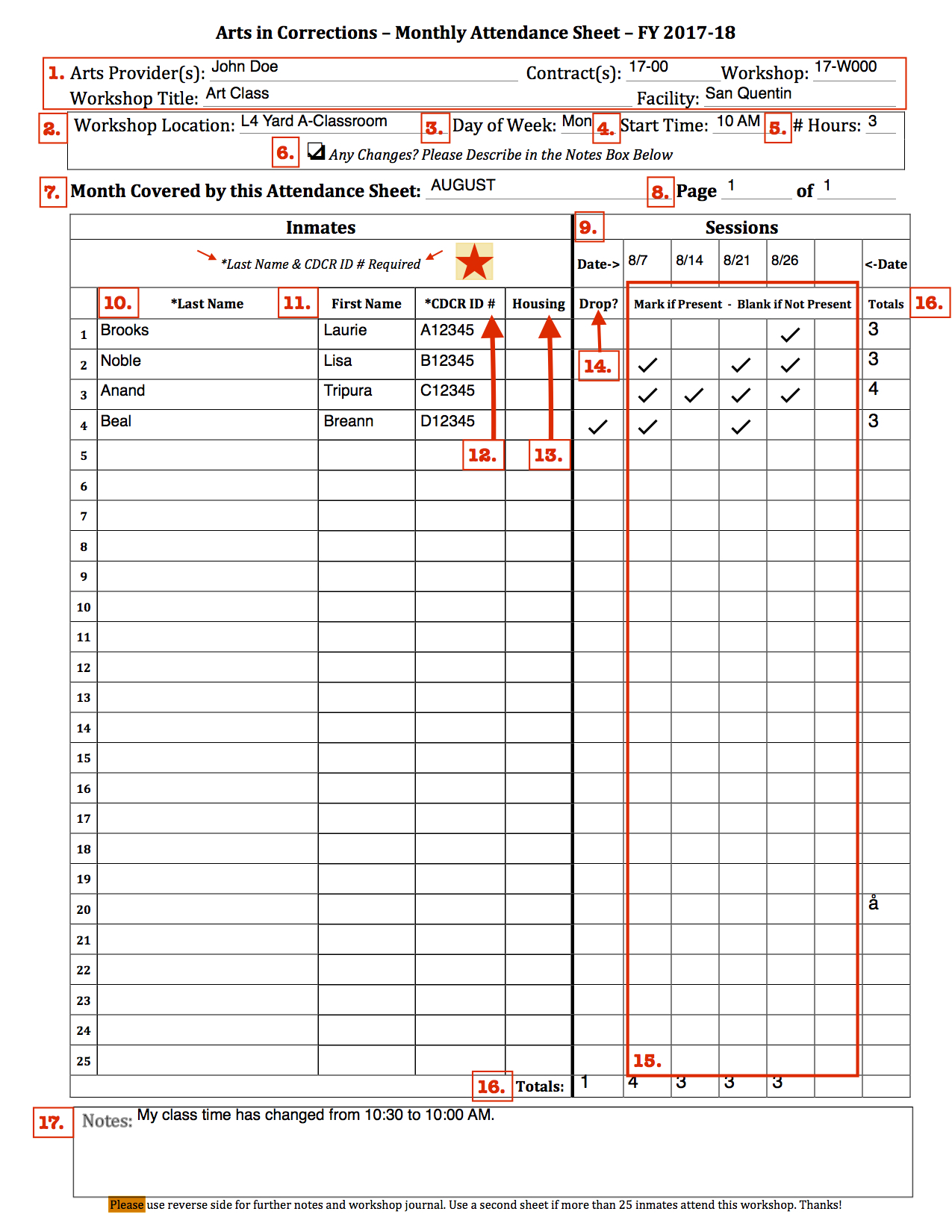 On Your Attendance Sheet:
1. Â  Â  Top two lines include essential information:
Arts Provider (s) [YOUR NAME]

Contract #(s)

Workshop #


Workshop Title [CLASS NAME]




Facility
To confirm Workshop ID #(s) click on the following link:Â WORKSHOP ID #(s).
2.     Workshop Location refers to the regularly scheduled physical venue, for example:  L1 Yard A-Chapel, L2 Yard B-Classroom 1, L4 C-Gym, etc.
> PLEASE INCLUDE Custody LEVEL, YARD, and Specific room.  If you don't know what Level or Yard, please ask your CRM or Mentor or a Correctional Officer.

3.     Day of Week refers to the regularly scheduled day, for example:  Mon, Tues, Thurs etc.
>> REMEMBER, IF YOU TEACH MORE THAN ONE WORKSHOP, SUBMIT A SEPARATE FORM FOR EACH ONE, EVEN IF THEY ARE ON THE SAME DAY. You have individual workshop numbers for each workshop you teach, find your workshop numbers here: WORKSHOP ID #(s). Double check the workshop number in the upper right hand corner of your attendance sheet, the class information you fill in on the sheet corresponds with specific workshop number, this is very important. 
4.     Start Time refers to the regularly scheduled commencement time, for  example: 8:30 AM, 1:30 PM etc.
5.    # Hours refers to length of the regularly scheduled workshop, for example:   2.5, 3, 6 etc.
6.    ❏ Any Changes? "Please Describe in the Notes Box Below" refers to any change in location, day or week, start time, # hours from previously regularly scheduled workshop. Additional information concerning changes to be noted in box at bottom of page, for example: "Session 8/10 moved to Classroom 2 because of painting. This is not a permanent change." or "Starting 8/31 Thursday Workshop will be held on Fridays from now on. No time change, just day change." etc.
7.  Month Covered by this Attendance Sheet refers to one month of sessions only, for example:  Aug, Dec, etc.
> SUBMIT EACH MONTH ON A SEPARATE FORM
> MAXIMUM 5 SESSIONS PER WORKSHOP/PER MONTH
8.    Page ______ of ________ refers to how many pages are being submitted per workshop/ per month, for example:  1 of 2, 2 of 2
> USE MULTIPLE PAGES IF INMATE LIST EXCEEDS 25
9.    Date refers to the individual session dates of this month only, for example:   8/10, 8/17, 8/14, 8/31
> PLEASE REMEMBER ONE WORKSHOP, ONE MONTH PER ATTENDANCE FORM
10. *Last Name refers to the inmates' last name.
> This is REQUIRED information. Accuracy of spelling is very important for the database.
11.   First Name refers to the inmates' first name. This is helpful, especially when there is more than one inmate with the same last name. Accuracy of spelling is good.
12. *CDCR ID # refers to the inmates' CDCR #
> This is REQUIRED information. It is THE most important piece of information. It MUST be ACCURATE.
>> These are six-digit numbers, NO spaces, NO dashes, PLEASE!
•If you have any doubt as to the accuracy, verify the number BEFORE SUBMITTING at http://inmatelocator.cdcr.ca.gov/
13.  Housing refers to inmates' housing as provided by the facility.
14.   Drop? refers to an inmate who has officially dropped out of the workshop and will no longer be attending.
15.  Mark if Present – Blank if Not Present refers to the physical presence of any inmate in workshop sessions. By clicking in the box, a check mark √ will appear to indicate inmate being present. Not clicking in the box indicates inmate absent.
16.  Totals (along side and along bottom) refers to an individual inmate's total monthly attendance (side, column) and each session total (bottom, row).
17.  Notes: document any pertinent information, for example: changes regarding workshop location, day of week, start time, # hours, etc. It is also a place to make important notes regarding lockdowns, illness, or anything that is a significant disruption to your class.
Submit your attendance with your monthly invoice. For detailed instructions click HERE.
Please contact our program assistant, Tripura Anand: Tripura@williamjamesassociation.org if you have any questions or need support.
CONTINUE TO SUBMIT ATTENDANCEÂ & INVOICES TO: admin@williamjamesassociation.org