Read More
As Executive Director since 2001, she led the growth and development of the WJA Prison Arts Project, WJA Community Youth Arts Project, the Arts in Youth Authority, and Arts in Mental Health programs. She has been a strong collaborator with the California Arts Council, and for 15 years, helped the National Endowment for the Arts establish Artist-in-Residence programs within the Federal Bureau of Prisons. Laurie is currently overseeing WJA's Prison Arts Project in 17 California state prisons. She has degrees in Economics and Community Studies from the University of California Santa Cruz. A ceramic artist, Laurie currently serves on the Board of Directors of the Arts Council Santa Cruz County and the steering committee of the national Justice Arts Coalition.
Jack Bowers
Senior Arts Mentor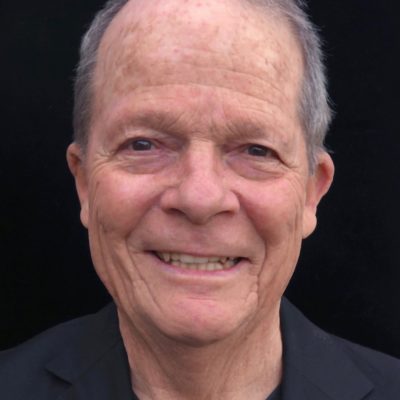 Jack Bowers is a pianist, performing musician, songwriter/composer and arts administrator.
Read More
For twenty-five years he directed the Arts in Corrections program at Soledad State Prison, which involved hundreds of inmates in weekly fine arts activities, ranging from creative writing classes to music theory to luthiery. Currently, in addition to performing, teaching and recording in the Santa Cruz area, he is an active advocate for arts programming for prisoners and at risk youth through the William James Association. For the past seven years he has been a mentor for artists teaching in California prisons.
Read More
She first served as a VISTA program arts instructor for at-risk high school students, then became the event coordinator and curator for a major WJA anniversary art auction. After receiving her B.A. from UCSC in fine art, she provided graphic design, marketing, and community outreach services as a contractor. Now on staff, she coordinates artists and vendors and manages a number of projects. With a background in printmaking and performance, she appreciates the WJA underlying creative spirit, and she works to maintain the strong reputation for service in the arts and community development that this non-profit has earned for over 40 years.
Read More
He recently retired as the Community resources manager at San Quentin State Prison where he coordinated over 50 different self-help programs and managed over 2,000 volunteers and guest visitors annually. In 2009 Steven received a Heroes of Compassion from the Dalai Lama for his work providing arts programming to incarcerated populations. He has an MA from Central Washington State University in Wood Design and a Master of Fine Arts degree in Sculpture and Furniture design from San Diego State University.
Read More
His experience consists of donor development, museum education, volunteer management, program and exhibition development, and youth mentorship. His prior curatorial work approached issues ranging from the effects of climate change on communities of color to housing rights and immigration. He holds a BFA in pictorial studies from San Jose State University with two years of additional study at Syracuse University. As Prison Arts Program Manager Joey hopes to affirm founder Eloise Smith's vision to provide individuals with the most meaningful art experience possible and to uphold the values of Dignity, Mutual Respect, Determination, Healing, and Redemption for every program participant.
Read More
At nineteen he was sentenced to 29 years to Life in the State of California prison system. He was paroled in 2013, at age thirty-nine. Art has always been in his life. During his incarceration, he participated in Arts in Corrections where he was first introduced to the William James Association and to block printing, bookbinding, creative writing, color theory, and more. For three years, Henry served as a clerk to the Artist Facilitator, assisting with proposals, memos, accounting, inventory, scheduling, art and food sales, concert and event production, and participant relations and conflict resolution. When Henry was in front of the parole board and had to put into words what art did for him, he said, "It taught me to be patient, critical, and humble. The AIC gave me a place to be trusting, responsible and social. Art gives me meaning, contentment and inner-peace."
Read More
He also serves as department chair of Africana Studies. Professor Ellis has directed dozens of plays for the University Theatre program including Native Son, Colored Girls, and The Gospel at Colonus. He also directed numerous productions throughout the region including God's Trombones at the Central California Women's Facility, Chowchilla. He was appointed Fulbright Scholar at the National Taiwan University where he directed the university's first main stage production, David Henry Hwang's Golden Child, (performed in English and Mandarin). Other international credits include El Hajj Malik at the National Theatre of Nigeria, Lagos and Death and the Maiden, Van Troi Theatre, Santiago de Cuba, Cuba. He has appeared in several movies and is an active member of the Screen Actors Guild and the American Federation of Radio and Television Artists. He currently serves on the boards of The Fresno Arts Council, Valley Public TV Community Advisory, Arte Americas, and The William James Association, Santa Cruz.
Read More
For twenty-five years he directed the Arts in Corrections program at Soledad State Prison, which involved hundreds of inmates in weekly fine arts activities, ranging from creative writing classes to music theory to luthiery. Currently, in addition to performing, teaching, and recording in the Santa Cruz area, he is an active advocate for arts programming for prisoners and at-risk youth through the William James Association. For the past seven years he has been a mentor for artists teaching in California prisons.
Jose Antonio Aguirre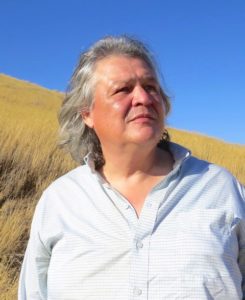 Jose Antonio Aguirre has received national and international awards, including the Fulbright-Garcia Robles awarded by the United States State Department and the Cultural Exchange International grant from the City of Los Angeles Department of Cultural Affairs to produce a community public art project in Mexico.
Read More
Aguirre has been a teacher and Artist-In-Residence in various institutions, and given several lectures and workshops at universities, museums and cultural institutions around in Germany, Mexico, Scotland and the United States.
He obtained a BFA from the School of the Art Institute of Chicago (1982) and an MFA from California Institute of the Arts (1990). Since 1976 he has lived and worked in Chicago, Austin, Los Angeles, Mexico City and Colima City, currently resides and works in Pasadena, California.
Read More
He has produced museum quality prints and has prints in the Library of Congress. He is a prolific writer and a self-taught guitarist. Since then, he has been focused on his life and his family. Now that he has established his life, he reached out to Henry and asked him, "how can I give back?". He appreciated his time in the Arts in Corrections and wants to make sure that the WJA is around long after all of us are gone. He brings to the board insight into the struggles, challenges and needs of the populations (currently and formerly incarcerated individuals) we are serving. He is ready to be of service and become an active participant in moving the William James Association into the future.
Read More
He has released 7 albums under his own name and has three more in the can. His latest Jazz Standards Vol 2 Then Again, reached #10 on the prestigious JazzWeek chart. He has taught jazz at the University of the Pacific and The American Institute of Music in Vienna, Austria. Henry's father was the first cousin of jazz great Charles Mingus. Henry lived with him briefly where he met luminaries such as Joni Mitchell, Dexter Gordon, Sonny Rollins, Ornette Coleman, Dizzy Gillespie, and Woody Shaw. For the last 30 years, Henry has been teaching music in the California prison system. He believes in giving back.
Read More
He is committed to assisting other veterans and aims to assist them in finding their way out of the dark. He has first hand experience with the many struggles veterans go through, including homelessness and prison. But he believes that with the opportunity to live as a community, veterans can raise each others self-esteem and sense of self-worth. He is the founder of Wesley Haye Enterprise, LLC, which is dedicated to assisting veterans with finding affordable housing options in Monterey County, California.
Read More
His books Art in Other Places and Making Exact Change and Art and Upheaval, are considered seminal works in the field. Organizer, teacher, researcher, and musician, he also directs the Center for the Study of Art and Community. The Center works to integrate the arts and community life, focusing on, the development of cultural partnerships, and training for artists, and their community, and business partners. Bill has also led the Walker Art Center's Education. Department (1995-97). California's Arts-In-Corrections Program (1981-1989), and the California State Summer School for the Arts (1989-1991). His most recent book Between Grace and Fear: The Role of the Arts in a Time of Change written with Patricia Shifferd was published in 2012. His CD, SongLines, based, in part, on stories from Art and Upheaval, was released in 2014.
Read More
O'Malley's research interests include Insect Ecology, Conservation & Restoration; Environmental Justice & Impact Assessment; International & California Coastal Sustainable Agriculture. O'Malley also maintains a working relationship with the Center for Agroecology at UC Santa Cruz, Santa Cruz, CA, and is an advisor for Master of Science students in research on conserving pollinators, reducing farm runoff, and understanding pest/enemy dynamics in farm fields in Santa Cruz and Santa Clara Counties, California. Internationally, O'Malley supervises students working on the ecological impacts of banana production, shrimp farming, cacao, and cattle production in Costa Rica, Nicaragua, and Colombia, respectively, and runs the sustainable agriculture garden on Campus at San Jose State University, San Jose, CA. O'Malley serves on boards of a range of local nonprofit organizations, government commissions, and political organizations.
Read More
Retirement hasn't slowed Mr. Cook down, as he continues to consult for the William James Association and Arts in Correction at Solano Prison. He continues working with the Educational Department for the Sacramento Theatre Company (STC) and prior to the pandemic, continued to act in such productions as, To Kill A Mockingbird at STC, The Iceman Cometh for the Actor's Theatre of Sacramento and only a few years ago received the Elly award for acting in Learning Spanish at the Wilkerson Theatre. Mr. Cook is the author of a drama curriculum, Center Stage, A curriculum for the Performing Arts. First published in the ninety, you can still purchase Center Stage on Amazon.
Read More
He has been a member of the board for over thirty years and has directed and performed in productions in institutions including Vacaville, Soledad and San Quentin. He is the recipient of three California Art Council grants. He created a relationship between the University of California's Shakespeare Santa Cruz touring both 'Romeo and Juliet' and 'Midsummer Nights 'Dream' in prisons throughout California. Nigel is dedicated to Arts programs in prison that reduce recidivism and promote human rights for incarcerated individuals. He has been influential in recruiting and establishing artists in prisons, in theater, visual arts, creative writing, and music. He was appointed to the board by founding members Page and Eloise Smith.