Research
---
Cognitive Behavioral
Social Learning
Resilience
Social Capital
Performance
Desistance
Arts in Corrections Research flyer – click here to download
---
Authored by Larry Brewster
Photographs by Peter Merts
"Paths of Discovery: Art Practice and Its Impact in California Prisons" tells the stories of the men and women who discover-through prison fine arts programs-untapped skills, new passions, and the rewards of introspection and self-discipline. In these programs, professional artists provide inmates with quality instruction in visual, literary, and performing arts-and in the process often become mentors and role models for their students. By traveling with their teachers down paths of discovery, many of these inmate-artists learn to transform "doing time" into positive engagements that benefit their lives in prison and beyond. Includes: color photographs, interviews, and more than 100 reproductions of inmate paintings, drawings, prints and poetry.
---
PRISON ARTS RESOURCE PROJECT, An Annotated Bibliography
Authors: Amanda Gardner, Ph.D., Lori L. Hager, Ph.D., University of Oregon, Grady Hillman, Southwestern Correctional Arts Network
Published by National Endowment for the Arts, May 2014
The Prison Arts Resource Project (PARP) is an annotated bibliography of evidence-based studies evaluating the impact of arts programs in U.S. correctional settings. Each of the 48 entries includes information about the arts program as well as the study research goals, methods and a summary of findings.
---
CLA County Jails Project Report January 2017
Jail Arts Participant Feedback and Demographics
Beginning in the fall of 2015, participants in the art programs at the five county jails in Fresno, Los Angeles, Santa Cruz, San Francisco and Sacramento Counties completed surveys that provided feedback about their experiences so that we could evaluate the overall outcomes and effectiveness of their engagement with art.
---
For Immediate Release (Feb. 2014): A one-year study of inmates in four California correctional institutions revealed that arts programs improve prisoners' behavior and their attitudes about themselves. A significant majority of inmates attribute their greater confidence and self-discipline to pursue other academic and vocational opportunities to their participation in arts programs, signalling a pathway for overall personal growth. The evaluation, which was completed by Dr. Lawrence Brewster of the University of San Francisco, was a central component of a demonstration project organized by the William James Association and California Lawyers for the Arts. Click here to read the full Press Release. Please click below to download full PDF:
CALIFORNIA PRISON ARTS EVALUATION 2014
This most recent study follows a
Qualitative Study of the California Arts In Corrections Program
which Dr. Brewster competed in 2012
Dr. Brewster originally conducted a cost-benefit study in 1983. In Brewster's analysis, society and the institutions benefited by reduced disciplinary actions, community service and beautification of the prisons. Click here to download "An Evaluation of the Arts-in-Corrections Program of the California Department of Corrections," in full (6.3MB) or as an abstract (736KB).
You can also download Arts in Corrections Recidivism Research conducted by California Department of Corrections, spanning 1980-87 (synopsis). Participants in Arts-in-Corrections were less likely to reoffend (or have "favorable outcomes," in the language of the study). "Results show that the Arts-in-Corrections participants had a significantly higher percentage of favorable outcomes than the CDC total population studied for the same time period." See graph below.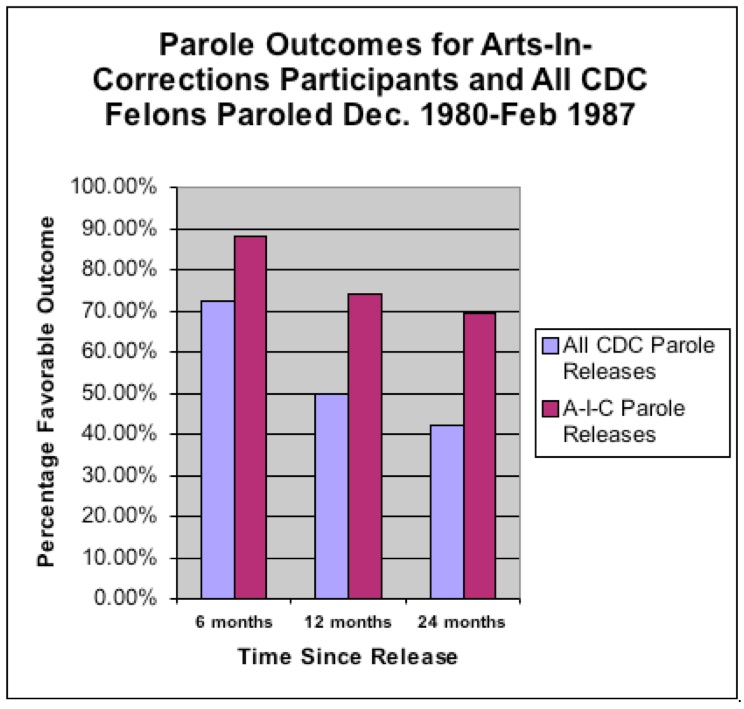 These studies found that participants in the AIC program had 75% fewer disciplinary actions and a 27% lower recidivism rate than the general prison population. This translates into reduced incarceration costs to the public, not to mention improved human lives. Ninety percent of inmates will return to our communities. It serves each of us to be concerned about the environment in which they live and the programs in which they participate while incarcerated.
Notes:
These documents are formatted as Adobe .pdf files with searchable text behind high resolution image scans. You can download the latest version of the Adobe reader here.
If you find these reports useful or are interested in adding to this literature showing the benefits of the Arts in prisons, please email us and let us know what you're working on!
---
Arts in Corrections records archived in UCLA Special Collections
Here is the collection finding aid for the Online Archive of California: http://www.oac.cdlib.org/findaid/ark:/13030/c8x92btn/.
If there is material in the collection that you would like to access, the Special Collections reference unit can answer questions about accessing any materials that you see listed, (310) 825-4988, spec-coll@library.ucla.edu